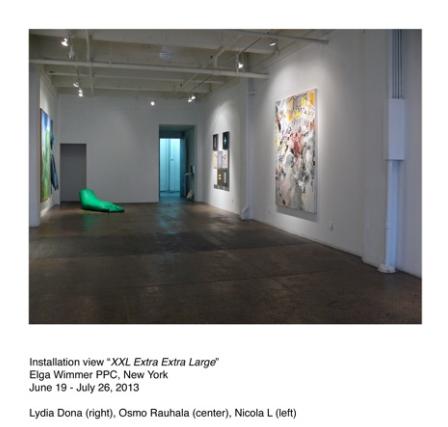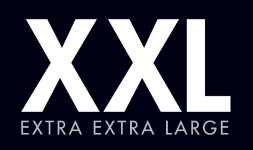 Lydia Dona, James T. Greco, Richard Humann, Nicola L, Gerard Mossé, Osmo Rauhala
June 19 - July 31, 2013
Artists have always been challenged by creating works on a very large surface, be they ceiling paintings, murals, graffiti, or projections of video or film. The artists in this show (Lydia Dona, James T. Greco, Richard Humann, Nicola L, Gerard Mossé,and Osmo Rauhala) have each created a large new work, or contributed one from an earlier series.
Bigger is not necessarily better, but in this case the viewer can be the judge, interpreting and enjoying the impressive over-sized work in this show titled XXL.
---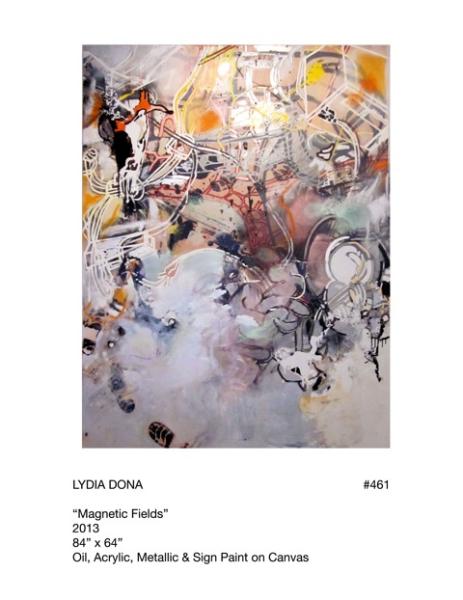 Lydia Dona
| | |
| --- | --- |
| 1955 | American, born in Romania |
| 1973-77 | Bezalel Academy of Art, Jerusalem (B.F.A.) |
| 1978-80 | School of Visual Arts, New York |
| 1982-84 | Hunter College, New York (M.F.A.) |
Lives and works in New York
---

Richard Humann
Live every Day in Truth originated as a video installation for my solo exhibition Evidence of My Being at the Lance Fung Gallery in Soho in 2000. The video is of my braid slowly swinging back and forth like a pendulum of a clock.
The inspiration of the piece is that there is a grandfather clock that has been in my family for generations. Many years ago, my great-uncle Phil was the person who wound up the clock every day. After his sudden passing the clock was not would for many years. It was moved to several households in our family and eventually would be wound up again. Somehow it became an unspoken tradition that at the passing of a family member the clock was let to wind down and the pendulum would stop. Eventually it would be wound up yet again and continue working. This happened many times over the many years.
Six months before my solo exhibition was to open, my mother passed away at a young age. The clock was taken from her home and let to wind down. It has not been wound up again since her passing. This tradition was the inspiration for the piece, and is a reminder to live every day in truth.
In 2001, I was invited to participate in an exhibition in Lier, Belgium with Voorkamer Gallery. The directors had seen the piece and arranged to have it projected onto the Zimmertoren (Zimmer Tower) which originated as a 14th Century tower in the center of the small city. A massive projector was brought in on the back of a truck and the video was projected onto the tower and ran through the evenings of the exhibition.
Years later, I was an invited artist to Grafiikanpaja Himmelblau in Tampere, Finland. Several artists are invited to come to Himmelblau, one at a time, to work with their master printer and staff to create series of works. I flew in to Tampere, met with the group of printers and chose three projects to work on during my time there. One of them was to create Live every Day in Truth to a limited edition print series. The work exceeds the limit of the print bed, so we did the printing in two large segments using individual copper plates lines up in a row. When combined, the print is 96" long.
---
Osmo Rauhala
I paint in order to understand myself and my natural surroundings. My understanding can expand as fast as the paintings create new experiences about this relationship. The essential element of the interaction between man and nature is whether language and the concepts we have created can describe the system we are dependent on.
For about 500 years modern society has sought to stand back from its environment and understand it through analysis. One of its central tools has been language, to the point where modern technology has become dependent on it.
Our intelligence, senses and instincts are all different ways to understand our surroundings, but during the past centuries intelligence based on communication through language has become our dominant antenna. Intellect and language have won the battle of evolution over our senses but may become the dinosaurus on the field of the human mind.
Logical thinking and testing inside modern science has proven to be very effective in order to improve our material and physical state. But in spite of the enormous increase of information in the modern world we do not know much more about the basic structure of the universe and the laws of life than our ancestors thousands of years ago. However, while basic metaphysical questions still puzzle us, we are facing much bigger problems concerning our survival than people before us.
---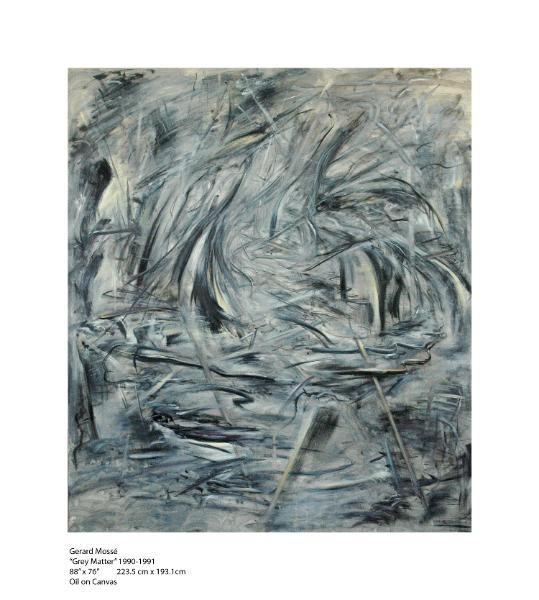 Gerard Mossé
Education
1985
M.F.A. Painting, Claremont Graduate School of Art, Claremont, CA
1975-78
Studied at Otis Art Institute, Los Angeles, CA
1973-74
Apprenticeship with Michael Frimkiss, Venice, CA

Selected Solo Exhibitions
2013
"Paintings on Paper," Jill Newhouse Gallery, New York, NY
2010
Elga Wimmer Gallery, Chelsea, NY
2006
Janet Kurnatowski Gallery, Brooklyn, NY
2005
Katherine Markel Gallery, Chelsea, NY
1996
Andrea Pintsch, Munich, Germany ( 3 featured artists)
1991
Berland Hall Gallery, New York NY
1985
Claremont Gallery, Claremont, CA
1980
Kaplan/ Bauman Gallery, Los Angeles, CA
Selected Group Exhibitions Continued Here
---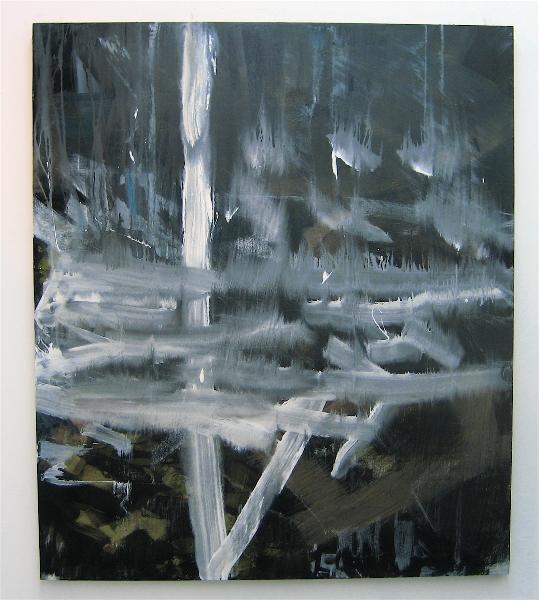 James T. Greco
Education
1997
PENNY McCALL FOUNDATION GRANT RECIPIENT
1990
SCHOOL OF VISUAL ARTS NEW YORK, NY - BFA

Selected Solo Exhibitions
2011
KILL THE MAGICIAN, 210 GALLERY, BROOKLYN, NY
2004
PAINTINGS, PARADIGM, JACKSON HOLE, WY
1999
STUDIO VISIT, TOBEY FINE ARTS, NYC, NY
1998
PAINTINGS, TOBEY FINE ARTS, NYC, NY
1997
AVALON, LARVAE ART SPACE, BROOKLYN, NY
1996
CUT AND DRY, LARVAE ART SPACE, BROOKLYN, NY
1980
Kaplan/ Bauman Gallery, Los Angeles, CA

Selected Group Exhibitions
2012
SCOPE NYC, MURIEL GUEPIN GALLERY, BROOKLYN, NY
FALL GROUP SHOW, MURIEL GUEPIN GALLERY, BROOKLYN, NY
2011
THESE ARE FEW OF MY FAVOURITE THINGS, GREENPOINT, NY
ART CHICAGO, MURIEL GUEPIN GALLERY, CHICAGO, IL
THE WOODPILE, JOHN BIANCHI STUDIO, BROOKLYN, NY
2010
THESE ARE FEW OF MY FAVOURITE THINGS, GREENPOINT, NY
AAF, MURIEL GUEPIN GALLERY, NYC, NY
HAMPTONS ART FAIR, MURIEL GUEPIN GALLERY, BRIDGEHAMPTON, NY
SCOPE MIAMI, MURIEL GUEPIN GALLERY, MIAMI, FLA
IT'S A WONDERFUL TENTH, SIDESHOW GALLERY, BROOKLYN, NY
---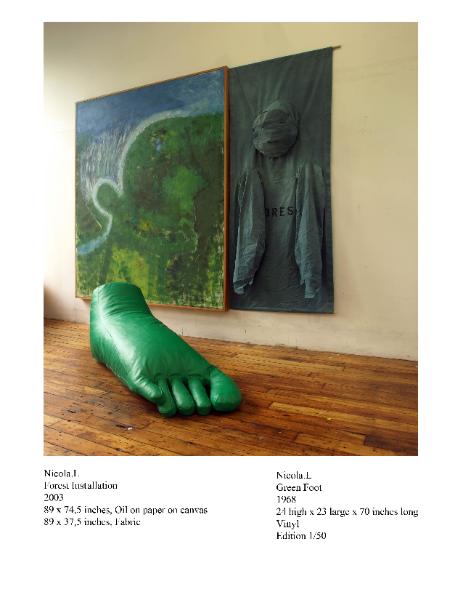 Nicola L
Nicola is a conceptual artist who does film, performances, and functional art. In 1969, living in Paris and Ibiza, she performs "The Red Coat for Eleven People" at the Festival of the Isle of Wight, with Gilberto Gil and Caetano Veloso, and continues to perform "The Red Coat" or "Same Skin for Everybody" in the streets of London, Amsterdam, Brussels, Cologne, Paris, Barcelona, Ibiza, and New York. In the same year, 1969, her first personal shows of functional art at Daniel Templon, Paris and Galerie Veranneman in Brussels, followed by numerous expositions in Europe and in America.
In the 1970s, Nicola begins to work with her friends Copi, Victor Garcia and Jerome Savari, with whom she develops various experimental pieces in Ibiza and Paris.From 1975 to 1986 she concentrates on film projects. The first of which is titled,"The Heads are Still in the Island," shot in 35 mm on Ibiza with Terry Thomas, Lola Gaos, and Norman Brinsky. In 1976, she directs a film about a Spanish Woman sentenced to death during the years of Franco, "Eva Forest"
1979: She moves to New York where she films "Bad Brains at CBGB;" in 1980, and in 1981, a documentary portrait of "Abbie Hoffman" which is shown on PBS. (it is because of this film on Abbie that Nicola is invited to the Havana Festival de Cine, and discovered and liked Cuba in 1997). From 1982 to 1985 she is writing "The Movement" based on interviews with Noam Chomsky, Bill Kunstler, Dave Dillenger, Kate Millet, Stokley Carmichael, Angela Davis and others.
1986: She goes back to her roots of conceptual and functional art, and is exhibiting at Florida International University, Mukha Museum Antwerp, Vrej Baghoomian Gallery -NYC, Peder Bonnier NYC, Thread Waxing Space NYC, Galerie Lara Vincy Paris, Nice Museum of Contemporary Art, and The Center of Contemporary Art, Le Magazin, in Grenoble.
---